The NMSU Headstart classroom is located on the NMSU campus as part of Myrna's Children's Village, along with the Compañeros center. NMSU is Doña Ana County Headstart's only full day program.

Doña Ana Head Start is a free Federal Program for children aged 3-5 from low-income families which helps all children to succeed.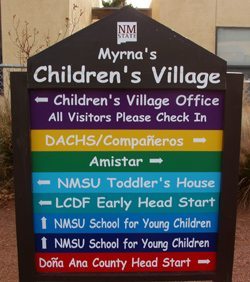 There are a variety of educational opportunities, medical and dental care, screening for developmental delays, family & social services, healthy meals and snacks, and appropriate learning activities in a safe indoor/outdoor setting. NMSU Head Start classes operate four days a week (Monday through Thursday) with 15-17 children per session. The AM session runs from 8-11:30 AM, and the afternoon session runs from 12:30-4 PM. Our center is staffed with a teacher, teaching assistant, cook, parent involvement assistant, family outreach worker, and parent/community volunteers.
Applications may be picked up at the Myrna's Children's Village Building 800 or call 575-646-2889. Applications may also be obtained from the Doña Ana County Head Start Administration office at 2540 El Paseo, Suite B (575-647-8733).