Laboratory Schools: Myrna's Children's Village
Myrna's Children's Village offers early care and education programs for NMSU students, faculty, staff, and community families and children, six weeks to five years of age. Through a variety of program options for infants, toddlers, and preschool children, families have choices to meet the childcare and educational needs of their young children.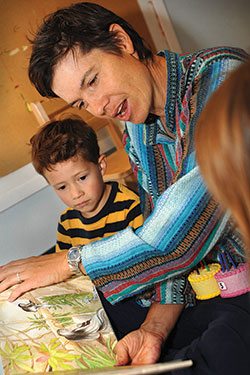 All of the NMSU Children's Village programs provide high quality care and education of young children as well as environments for university students to learn about appropriate education of young children. University students are supervised at all times by permanent staff members. In addition to serving as field experience sites, the NMSU Children's Village Programs serve as sites for faculty research.
 Myrna's Children's Village
Children's Village Office: (575) 646-1651
Programs
Companeros/Head Start, Building 100
LCPS Main Office (575) 527-6076, (575) 527-5905
DACHS Main Office (575) 647-8733
Amistad KIDS Preschool, Building 200
LCPS Main Office (575) 527-5800
La Clinica de la Familia Early Head Start, Buildings 400, 500
Office (575) 532-0515
NMSU School for Young Children, Buildings 300,600 & 700
Director (575) 646-7933
Dona Ana County Head Start NMSU Classroom, Building 800
Main Office (575) 647-8733