Language, Literacy and Culture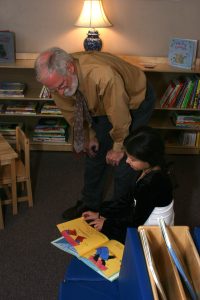 An Integrated Curriculum and a Critical Pedagogy for Distance Education
Description of the Program:
The Distance Education Reading Endorsement Program at NMSU is an on-line, 24 credit hour program that qualifies teachers for the New Mexico Public Education Department (NMPED) K-12 reading endorsement.
Accreditation:
Graduate courses in Reading at NMSU are aligned with endorsement requirements by NMPED.
Graduate courses in Reading meet content and teaching standards of the International Reading Association (IRA ) and the National Council of Teachers of English (NCTE)
Core Courses & Program Overview:
RDG 510 Adult and Family Literacy
RDG 511 Literacy Assessment & Evaluation
RDG 522 Language and Literacy Acquisition
RDG 525 Pedagogy and Theory of Young Adult Literature
RDG 530 Sociopsycholinguistics of Reading
RDG 555 Introduction to Instructional Leadership for Literacy Education
RDG 585 Internship in Reading /Literacy
RDG 598 Special Topics: Theory and Pedagogy of Writing
Program Entry Requirements & Registration Procedures:
All K-12 teachers who have an interest in understanding Reading/ Literacy are encouraged to contact our faculty.
For more information contact Dr. Mary Fahrenbruck (mfahren@nmsu.edu) or (575-646-2326).
To apply: Go to the NMSU Graduate School (https://gradschool.nmsu.edu/) and click on the "Apply to Graduate School" button on the right side.
There is an application fee assessed by NMSU Graduate School. Also, a $20 university entrance fee for new non-degree students. Degree seeking students must be fully admitted to the Graduate School.
Students in Online programs will be assessed a per credit distance education fee.