WELCOME!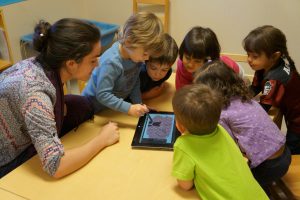 We look forward to working with you and other early childhood professionals, like yourself, to expand the early childhood community's capacity to support families, engage children in meaningful learning and form collaborative partnerships between early childhood educators, service agencies and families. The faculty are committed to supporting the diversity that exists within the children, families and college students we serve, and view that diversity as a strength on which educational experiences are built.
Early Childhood Education (ECED) at NMSU is dedicated to preparing teachers and educating persons for higher education in research, scholarship, practice and policy. The field of Early Childhood Education is concerned with the well-being, development, and learning of children from birth through age eight. Our program focuses on early children education through a theoretical orientation which places early childhood education within broader social, historical, political, and cultural contexts. Coursework provides a context for students to critically examine early care and education. Themes of bilingual and multicultural education and care, critical thinking, and reflective teaching are infused throughout the Early Childhood coursework.
The NMSU College of Education's School of Teacher Preparation, Administration and Leadership (TPAL) offers both Undergraduate and Graduate Degree Programs in Early Childhood Education. 
​Our Bachelors Degree in Early Childhood Education includes face-to-face and online classes as well as several field-based experiences in birth through third grade educational settings.
The Master of Arts in Education with a concentration in Early Childhood Education program is completely online and designed for working professionals. 
Masters plus Licensure and Alternative Licensure graduate programs require both online courses and face-to-face field experiences. Licensure programs require students to complete 100 hours of practicum in a K-3 classroom setting. 
All programs follow the personnel recommendations established by the Council for the Accreditation of Educator Preparation (CAEP) Programs, the National Association for the Education of Young Children (NAEYC) and the New Mexico Public Education Department (PED).